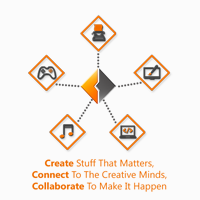 Today's business is increasingly globalized, with teams operating out of multiple locations in different cities or even countries. Remote working has also grown in recent years thanks to the prevalence of mobile devices and the rise of the cloud enabling people to work as effectively away from the desk as they can at the office. This kind of work could pose problems for teams that need to work closely together on a project, or indies who want to keep track of their own projects. Project managers need to have oversight of their team at all times and be able to communicate freely with their team members; something that might be made difficult by a remote team. So what can a cloud collaboration platform do to help?
1. Facilitate communication between team members
It's vital that your entire team knows what's going on during all phases of the project, and have the ability to check in and ask questions at any time. Gamedoora platforms via the personal and studio activity stream allow team members to communicate with one another without needing to be in the same room in a social connected manner. Secure communication can come in the form of form posts, microblog posts or comments, private or public chat messages, or even online meetings.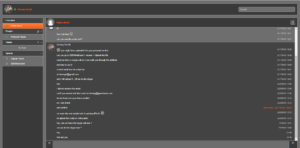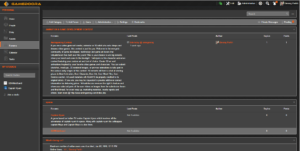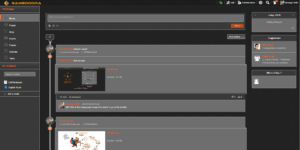 Using these different modes of communication can enrich a project and mean that team members don't simply get lost in the flow of email. By choosing the right tool for communicating a message, it is more likely to be received and engaged with, and this works for both private and public project studio members.
For instance, if you write form posts announcing project news or updates, your team can respond in the comments below. Or you could post an update on as a microblog or a topic to stimulate discussions or ideas about the project in the comments section of the activity stream. Anyone can join the discussion, no matter whether they're sitting or responding from their tablet on the train or their comfort cough at home.
Similarly, by using the chat be it individual or meeting feature you can hold effective meetings with the entire project team without having all the members in the same room. And at the end save the notes into your studio, thus you don't lose out on any topics that where discussed.
2. Get Creative along with your connections working collaboratively
There's a reason you have a team: different people have different skills that all need to work together to get the project completed. Teams need the ability to work together, and when a team isn't all in the same place this can make it a bit tricky. But with collaboration software, teams can work together securely online just as easily as if they were in the same room.
Using file sharing capabilities within the Assets section, team members can exchange documents and assets securely with colleagues without having to use email, and social tools allow team members to keep track of what uploaded. The version control maintains to what can be co-edited and work collaboratively on shots, animations, and any project work, team members can collaborate and contribute on the script and story under the Story section without worrying about duplication or not knowing which version is the most up to date. The studio manager / admin can control on who is editing or updating the story by a secure role based administration in each studio.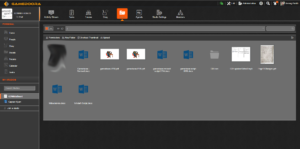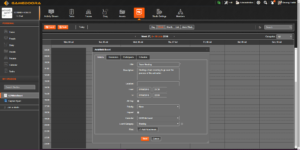 Team members can work together simultaneously using online event / calendar, you can host team or individual meetings using the chat tools, with the ability to show their progress, and project managers can give updates to team members and entire teams can brainstorm ideas together and give updates as a group.
Any information relevant to the project can be stored and held in the form of comment or form posts. Using tags, it is easy to sort and search for the right information when you or your team needs it. Using @mention it is easy to get the attention of the team member you want to inform. You can attach files, documents, audio and video to comment posts, as well as inserting links to other pieces of content within the activity stream. It is easy to keep all relevant files together for your team to easily share and access no matter where they are.
3. Project management made easy and Agile
It can be challenging to keep track of the progress of a complex project even if your entire team is in one place, and far more issues can arise when teams are remote or working out of different locations which typically is the case with indie projects, or with studios globally present and projects involving different developers. Gamedoora platforms has in-built project management tools to help with this, like tasks for allocating work out to team members or personally assigned, and events for setting project milestones and coordinating team members and external parties or users.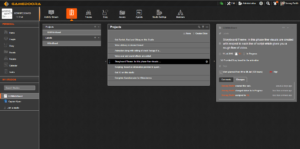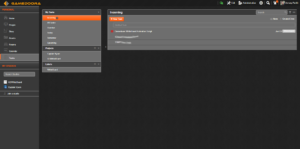 Using the Task / Project feature you can create sub projects which can further have task's only assigned to that projects. This way you can have individual projects for each section of the project (e.g., design, storyboard, music, etc)
Tasks and events can be assigned to yourself or individual team members and all of your team will be able to see the major project milestones and the actions that are relevant to them. This means that you can stay certain that your team members are aware of the progress of the project and what they need to do, no matter where they are. Tasks can further have labels and tags to maintain the correct flow in an agile manner
Another benefit of using Gamedoora for project management is that if any members of the studio requires changes during the course of the project, ask them to submit the changes as a post on the activity stream or start a forum thread to discuss the change. This will help you centralise all of your requests for change and keep track of them in one place. You can post your responses and actions related to the requests. This enables transparency which means that all team members are able to see and approve changes, or contribute suggestions off the back of them.
To take this one step further, you can invite your user / customer who are loyal to your project also keep a track of the project and comment on stuff that matters. This gives you the 360 feedback right from the start and you don't have to wait for your project to be live to get your customers and users loving it.
4. Keep a record of the entire project
It can be difficult to keep track of what has happened in each stage of the project, and especially so when you don't have your team nearby to fill you in. But when everything is done within Gamedoora, it stays there, which means that everything can be referred back to later and a record is kept of every communication and decision made. You can even refer to notes from previous projects for guidance, and can easily create a project report when the project is complete. You can easily keep track of meeting notes and what contribution was done by each member.
Maintaining regular progress reports allow you to keep a linear record of each stage of the project. If anything goes wrong, it is easy to refer to progress report posts and identify where the issue started. This also allows you to keep an eye out for any patterns that may repeat themselves, so that in the future you might be able to spot a problem before it happens.
Your entire team will have access to this same information too, so even if a team member is located in a different location they will be able to find the guidance notes from a previous project to help them to solve a problem they're facing, without having to send an email.
In Summary
There are plenty of benefits to using Gamedoora to bring your stories to life; in fact, there is no real need for a team to be located in the same office or even the same time-zone any more. The same collaboration platform that help remote project teams stay connected with one another are also helpful to making the project run more easily in general and can greatly improve efficiency and success of projects in a more agile and open manner. Why not give Gamedoora a go on your next project?
Where creativity truly takes a new angle.